We boast the best engineered hardwood flooring
Flooring isn't just about form it's about function too and Smartwood Floors have managed to find the perfect equilibrium. Our wide range of solid wood flooring products and colors have been derived from Europe, so you can be sure we're using the most advanced coatings and finishes to provide you with the best wood flooring every time.
Smartwood's Flooring System is resistant to cupping, swelling and movement when used in residential and commercial applications. Such superiority means our solid wood flooring system can be installed directly over a heated concrete subfloor as well as areas prone to moisture change.
Innovative and versatile, our premium wood flooring systems are made from a 3 mm wood layer which is pre-coated with 9 coats of a U-V cured lacquer. This ensures your wood flooring is both scratch resistant and hardwearing. It also means your wood flooring can be buffed and re-coated at any time. A unique aspect of our flooring is that 60% of our boards are full length. Less short boards and less joints equal a full board appearance.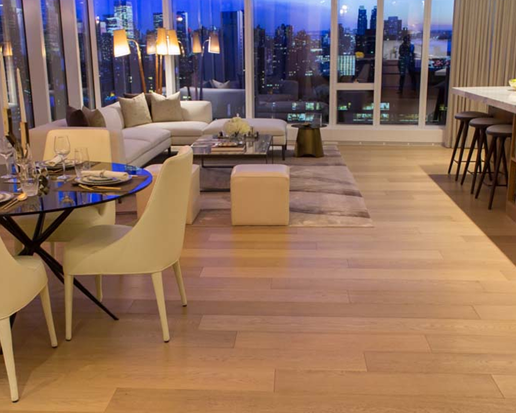 Environmentally Friendly World
Sustainable and renewable, it's fair to say that Smartwood's Flooring Systems are one of the most environmentally friendly in the world.
All of our wood flooring products are made from 75% recycled material and use about 80% less wood than solid wood flooring, whilst still maintaining the same high-quality surface appearance. Our wood flooring system is put together with Smart-Step Quiet Walk adhesive which is VOC free, ozone friendly and completely odorless.